For some time I've been really itching to take some fun aerial photos of my city – Columbus, Ohio. It has so much to offer that my list of buildings, parks, and cool places that would be a blast to explore from the air is pretty hefty. I've been watching the weather all week, and while its been pretty cloudy, we finally caught a break and the sun decided to visit us one last time this year. So, I packed up my gear and headed out on my mission– to get sunset photos of one of the coolest areas of downtown Columbus.
One of my favorite places to go, now that I'm a father of two, is COSI which is a really fun science center here in Columbus. Whenever we go to COSI, I prefer to take the scenic route that wraps around the Scioto River. Every time we do this, we always pass this building that I've been very curious about for some time that sits right on the bank of the river.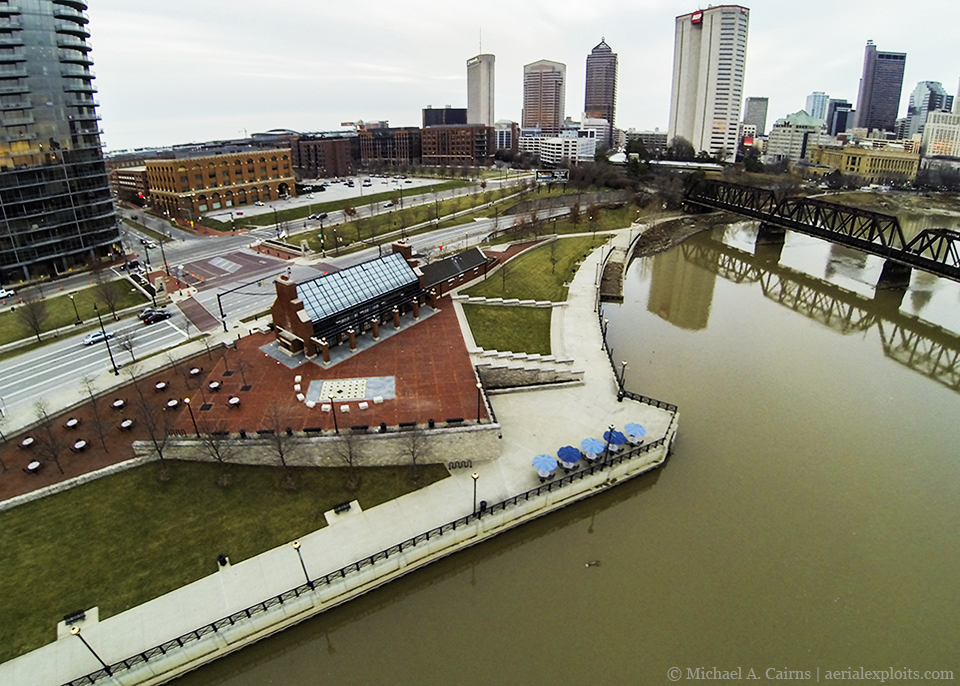 Well it turns out its actually part of what is known as North Bank Park. I thought that would be a perfect spot to setup the tripod and do some flying seeing as how the Columbus skyline and COSI are both easily visible from there. If you like, you can read more about North Bank Park here: http://parks.columbus.gov/Facility.aspx?id=25708 I definitely recommend a visit.
Before I got to "the good stuff" I noticed there was a really cool old train bridge off to my right. Compared to the clean, smooth lines of the park's walks, it had a worn, gritty, industrial feel that I really liked and I had to get some shots. A few seagulls decided to hop in the shot as well. I didn't mind a bit.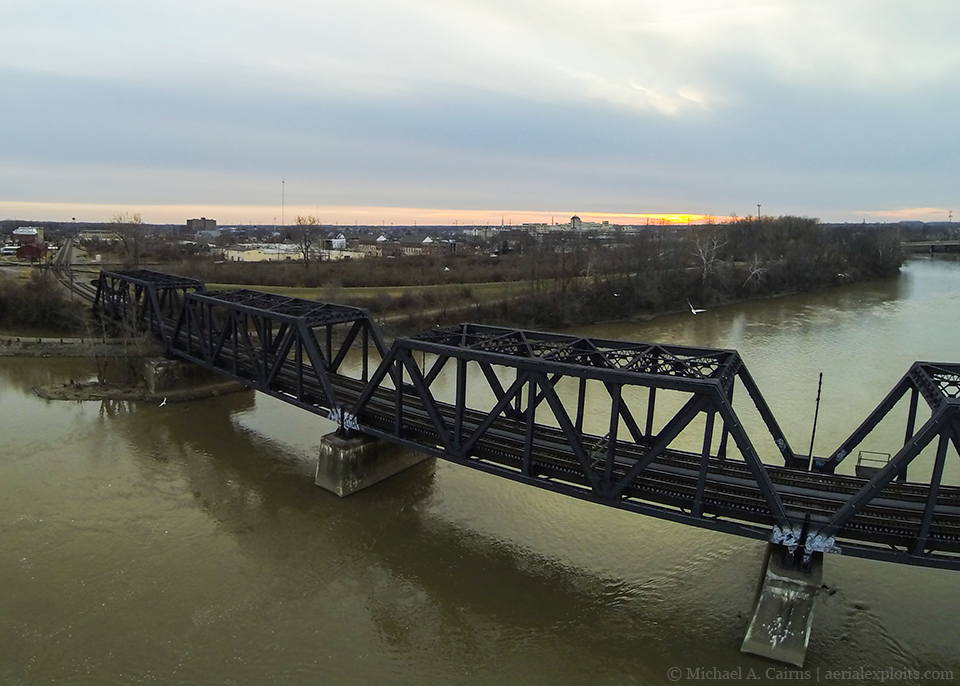 Once I finished flying over by the bridge, I decided to bring my DJI Phantom quadcopter back pretty quickly due to the cold weather that really cuts down on my flight time. After swapping out the lipo (battery), I was back in the air and decided to get what I came for.
The photo above will also serve as my first (and hopefully only) "selfie" I post in 2014. That's me right between the two red signs. I'm the little white spec on the right of the path.
All of a sudden, I heard this deep, rumbling horn. It took about 5 seconds for me to connect that this sound meant there was a train coming. And that the bridge I had just taken some shots of, would now be a bridge with a train on it. So I poured the coal to it, and flew back over as quick as I could.
Did I mention that its FREEZING here right now!? My hands were pretty much shaking because this genious forgot to wear gloves. So, I felt like I'd gotten what I could get at this location. Time to pack it up. I put the gear in the batmobile and pulled out onto the street to head back to the office. Do you ever have those moments where you get the feeling like you've got to give something one last shot, even though you thought you were done? That's pretty much what happened. The sun was setting even more brilliantly now and I still didn't have any great photos of COSI. Luckily for me, there was a perfect spot for me to pull off just a minute up the road that would get me close to COSI and downtown. The bad part was there wasn't any park area, which would mean I would have to launch the copter from a concrete walking path pretty much right off the side of the road. But, no guts no glory I suppose. So I went for it, and I'm really glad I did.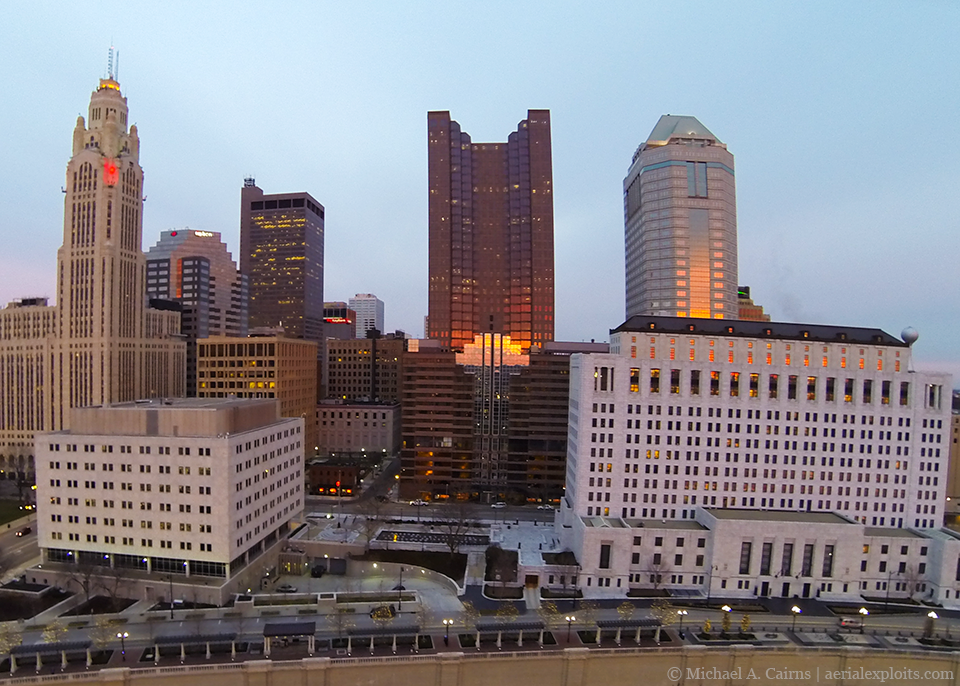 You may not see it at first glance, but if you look closely at the black and white specs at the top of the stairs, that's a bride and groom that had just gotten married and were getting their wedding photos taken just outside of COSI. What an awesome way to start the New Year!
Well, I hope you enjoyed these photos of Columbus, Ohio during the last sunset of 2013. Now go make this next year one to remember. Go out on a limb, take some (calculated) risks, and make sure to cherish this journey called life that we've been blessed with. Happy New Year.
– Mike


by